Genesis of the project
In the early 2000s, Flake Lorenz and Till Lindemann have some time off during the production of the Rammstein record Mutter. They drive to the Swedish province north of Stockholm with a few friends. A small village pub, the beer is flowing in streams, the air is vibrating. Weird music was played and the whole pub was full of local bikers, says Lindemann, laughing.
The homely atmosphere threatens to flip when the ex of one of their companions picks a jealousy-driven quarrel. A typical village pub fight is about to break loose but someone gets in-between unexpectedly. That's the guys of Rammstein, they are ok, says Peter Tägtgren loudly and plainly. The situation calms down, the night takes its course – and ends up eventually in Tägtgren's home with a few bottles of liquor from his brother's distillery.
Thirteen years later, in 2013, Rammstein is headlining the Bråvalla festival. Peter is in the audience. He and Till promise to write a song together as soon as their schedule is clear.
Production of the first album Skills In Pills
A promise is a promise: in autumn 2013, while Rammstein is on break, Peter sends an instrumental track to Till. He puts his voice on it - Ladyboy is born. A song about Bangkok's she-male-dominated red light scene. The saddest scene of the world, according to Lindemann. From this moment on, everything came together automatically, says Tägtgren.
Even though the two artists are working at a distance, the alchemy is such that several songs are composed in the following months, thanks to the exchange of musical files. Until an EP is considered. Then a full album.
Till participated actively in the arrangements, from the very first day it was a wonderfully inspiring cooperation
This guy is magical. I have some production skills myself but what he is doing here is simply unbelievable
Once composed, the songs are recorded in 2014 at Studio Abyss in Ludvika, Sweden, under unusual conditions. The production had a certain vacation disposition. Peter's studio is located directly next to a lake. I was able to cast my fishing gear from the window and while we worked something would bite now and then. The fish is cooked communally in the evening, while the working day is debriefed. Peter records all the instruments himself, but for complex arrangements and orchestral parts, he calls on his Dutch friend Clemens Wijers, who gives them a new dimension.
Normally we are at least four or five people in the studio, of which every single one has different ideas which have to be coordinated somehow. It was much more stress-free and organic between us.
Till writes the songs of Skills In Pills in English, to stand out from Rammstein but also to facilitate the understanding of Peter, who doesn't speak German.
At the beginning, I was concerned about that. Then I realized, though, what an exciting, completely open field the foreign language offered to me. It was important to me to keep the lyrics as simple as possible so that they can be understood all over the world, also in Chile or Russia. Nevertheless, I didn't want to lower sights qualitatively and that was the challenge.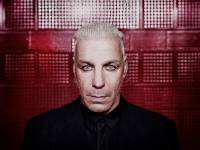 Four serious songs are present on the album, but most of them are humorous. Like the title song Skills In Pills, inspired by an encounter of Till: That goes back to someone I met briefly after a party. This guy was radically against illegal drugs but took pills against and for everything all day long.
We will certainly go to hell for this record (laughs). We are concerned about so many dirty stuff that we can only hope that people will understand the humor behind it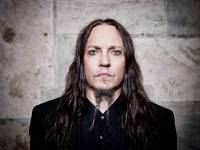 The album is mostly mixed by the Swedish Stefan Glaumann, who is used to working with Rammstein, and then mastered by Svante Forsbäck.
Official announcements
While the album is about to be finished, the band has no name yet. Till had first thought of "Kraut", which sounds both German and Swedish, and then "Dicks On Flies". Ultimately, as Till and Peter can't agree on a name, a friend suggests that they simply name the band "Lindemann". The name is definitely adopted, despite Peter's reluctance at first: I kinda took it badly becaue it sounded like a solo project. But in the end, I thought it was a nice name.
At the end of 2014, while Richard Z. Kruspe is in promotion for Emigrate's second album, he reveals that Till is working on a solo project in English. But it's on January 4, 2015, thanks to a Facebook post from the Swedish band Raubtier, that the line-up and the name of the band are publicly announced.
On January 27, 2015, the official Facebook page puts online the very first Lindemann excerpt, which will turn out to be taken from the song Fat. Another teaser, this time from Skills In Pills follows at the beginning of May 2015.
On April 22nd, 2015, the name, cover and tracklist of Skills In Pills are revealed. The album is named after one of its tracks and the Deluxe Edition contains 11 songs: two traditions inherited from Rammstein. The promotion is accompanied by photos, most of them taken by Matthias Matthies.
Praise Abort and Fish On
Two singles are release to promote Skills In Pills: Praise Abort at the end of May and Fish on in October, with the B-side G-Spot Michael. The videos are directed by Zoran Bihać, used to work with Till for Rammstein. The German director's offbeat clips serve the humorous side of the songs perfectly.
Messer tour
While Lindemann news has been at a standstill for a year, Till Lindemann makes a surprise appearance on November 15, 2016 at a Pain concert, one of Peter Tägtgren's other bands. They play Praise Abort.
But the first official concerts only take place at the end of 2018. On the occasion of the release of his book Messer in Russia, Till organizes the Messer tour, a tour combining autograph sessions and Lindemann concerts. Till and Peter play 10 songs from Skills In Pills. Phones are not allowed during these concerts, so only official pictures are put online.
Hänsel & Gretel
In 2017 Nele Lindemann, Till's first daughter, is hired as production assistant for the play Hänsel & Gretel, a modern adaptation of the Grimm brothers' fairy tale. She asks her father to participate in the project. Till and Peter compose six songs in German to illustrate the plot's highlights. They are accompanied by videos made by Estonian directors Ene-Liis Semper and Tiit Ojasoo. The premiere takes place on 14 April 2018 at Hamburg's Thalia Theater. A soundtrack is planned one year later, on 14 April 2019, but is cancelled because the duo wants to use some of the songs on their second album.
Mathematik
On December 19, 2018, the single Mathematik is released to everyone's surprise. Peter Tägtgren is not involved in the project: his son Sebastian wrote this hip-hop song for Lindemann's second album, but Till chooses to release it as a single featuring the German rapper Haftbefehl. The video, directed again by Zoran Bihać, is simultaneously put online. The song receives a mixed reception from the fans.
Back to top